NSF – National Sanitation Foundation

The basic NSF International logo is the round blue mark with white lettering. This logo simply means that a product has met basic NSF certification standards.
The Importance of NSF Certification
A health code violation or foodborne illness claim relating back to your restaurant can be devastating to your business. Purchasing NSF certified products can help you avoid violations and improve the reputation of your establishment in the long run.
Cost of Foodborne Illnesses
The CDC (Centers for Disease Control) estimates that approximately 48 million Americans contract foodborne illnesses each year. Not all foodborne illnesses are contracted in restaurants, it is worth putting in the time and money, even beyond what is required by law, to reduce the risk that your customers could become ill at your establishment. Foodborne illness can end up costing you:
Why Should I Buy NSF Listed Products?
Though many consumers may be worried about a higher price when they look at an NSF listed product versus a non-NSF product, the benefits certainly outweigh the extra cost.
Choosing NSF approved products may help boost your overall health inspection scores
Making sure that the products you use to serve your customers are NSF listed reduces the chance of foodborne illness
Cleaning NSF certified products is often easier and more efficient, saving your employees time and therefore saving you money
The reason why NFS listed items may be a wise choice for your kitchen is because the strict standards that NSF International upholds. NSF International reviews material choices, manufacturing processes, manufacturing facilities, and the final product to confirm that all phases of production meet their standards. After a product is certified, the organization may perform regulatory inspections of the facilities or retest the product to maintain that certification. That means that when you choose an NSF product you can be sure of the following for its manufacturer:
They are complying with national (and sometimes international) safety standards and regulations
They are committed to safety and quality in their products
Their items are made with added product safety and sanitation features
LED – Light Emitting Diode
Importance of LED
Energy Production: It is a well-known fact that LED bulbs produce less heat, even if they are used for a long time. It has clearer light output than the older bulbs, and the more you will use them, more economical they will be.
Longevity: These energy saving bulbs have a very long life, and they are able to remain consistent despite of long-term use. In other words, they are not easily hampered, even if you are using them for long hours. So, you can buy the bulbs according to your preference, which do not need to be swapped frequently.
Why Should I buy LED
LED lighting provide higher life-time and lower energy-consumption compared to standard fluorescent tubes. This save overall cost and make extends the longevity of the device.
Energy Star & EPA – Environmental Protection Agency
Importance of Energy Star
ENERGY STAR® is the government-backed symbol for energy efficiency, providing simple, credible, and unbiased information that consumers and businesses rely on to make well-informed decisions. Thousands of industrial, commercial, utility, state, and local organizations—including more than 40 percent of the Fortune 500®—partner with the U.S. Environmental Protection Agency (EPA) to deliver cost-saving energy efficiency solutions that improve air quality and protect the climate. Since 1992, ENERGY STAR and its partners helped save American families and businesses nearly 4 trillion kilowatt-hours of electricity and achieve over 3 billion metric tons of greenhouse gas reductions, equivalent to the annual emissions of over 600 million cars. In 2017 alone, ENERGY STAR and its partners helped Americans avoid $30 billion in energy costs.
Why should I buy Energy Star
Energy Star is a government back symbol for energy efficiency, providing simple, credible and unbiased information. The ratings are awarded to appliances that meet strict energy efficiency criteria without sacrificing performance or design. Look for refrigerators, freezers and other appliances. Their premium features are made to fit the style of your home—while saving energy, money, and the environment.
What is Energy Star?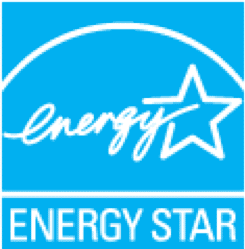 Energy Star is a label that identifies energy efficient products, such as appliances, which meet strict energy efficiency guidelines set by the U.S. Environmental Protection Agency (EPA) and the U.S. Department of Energy (DOE). Products that have earned the Energy Star help you save energy and money without sacrificing performance. By using less energy, these products also help reduce greenhouse gas emissions— caused by the burning of fossil fuels at power plants—that contribute to global warming. The Energy Star program helps businesses and individuals fight global warming through energy-efficient products and practices.
Why Choose Energy Star Appliances?
When buying appliances, remember there are TWO price tags: the initial purchase price and the ongoing operating costs you incur to use them. By incorporating advanced technologies and premium features, Energy Star qualified appliances may help offset initial costs through energy savings over the life of the unit by saving money on electricity, water or gas.
Many qualified appliances often feature the government's Energy Star directly on the yellow EnergyGuide label. The EnergyGuide indicates how much energy is used to operate each appliance and provides an energy scale for you to compare products. It also lists approximate annual operating costs. Your exact costs will depend on local utility rates and the type and source of your energy.
HFC – Hydrofluorocarbon Free
Hydrofluorocarbon (e.g. R134a), zero ODP, high global warming refrigerant gas that banned manufacturers from being able to sell or manufacturer them in the US as of 2020.
Why should you purchase HFC Free?
After January 2020 they will not be allowed to be manufactured or sold in the US to try an combat climate change. It will also be hard to eventually find parts and service for and refrigerators and freezers that have HFC. Anyone looking to purchase a refrigerator or Freezer should look for Hydrocarbon refrigerant (HC) A family of chemicals containing only carbon & hydrogen that are suitable for use as a refrigerant. Common examples include propane (R290), isobutane (R600a), and the CARE range.