Vigilant Labels – Intensive Care Units
On Demand


IV Tube Labeling
Perfect labels in seconds with a simple scan of the NDC
Vigilant's Verify ICU solution enables nurses to print high-quality IV tube labels with all the necessary information.
Nurses simply scan their ID and the drug's barcode to generate compliant, three-part labels. A detailed description of the label can be seen below.
No handwriting involved. Easily read by ALL the caregivers on shift as well as colleagues on future shifts. Eliminates errors when it is unclear a line needs changing. Increases safety by reducing infection risks. Allows these important caregivers to spend their time focused on the patient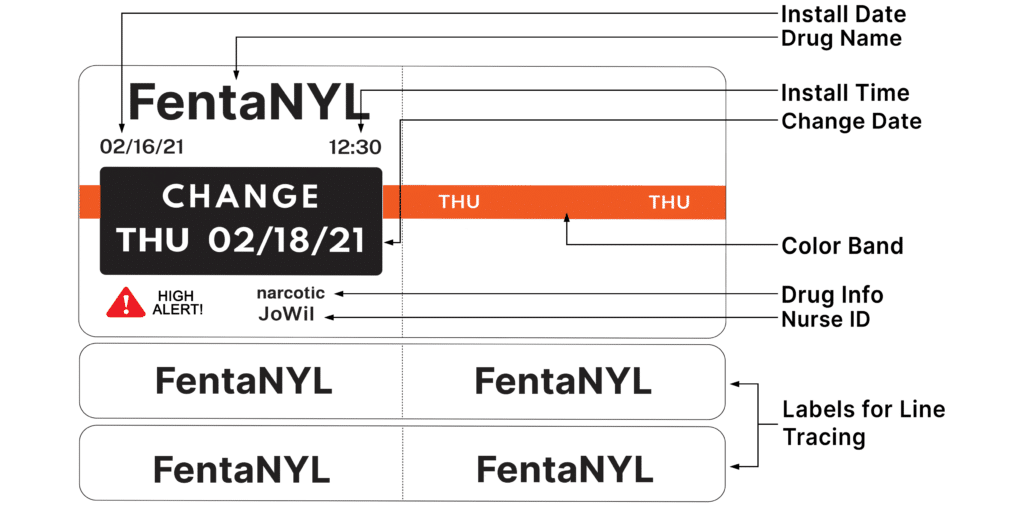 of hospital infection control professionals agree that changing IV tubing on time helps reduce the risk of infection.[1]
Average Annual Hospital CLABSI Costs
Estimate based upon 96-hour protocol, US hospital average infection rate 1.14/1000 central line days, average line days of 5,649, and an average cost of $45,000 per BSI.[2]

of nursing leaders agree that visual reminders are effective in prompting nurses to take action.[3]
Streamlining error-prone tasks for ICU nurses
Vigilant is passionate about patient safety. Whether it is our
syringe labeling solution or IV tubing, the Vigilant team
developed the Verify labeling system to optimize patient safety.
Vigilant also believes that in order to see adoption and use by ICU staff, it must create a labeling process which is incredibly easy-to-use. Critical care nurses desperately want to spend their precious time focused on the patient. Vigilant Verify ICU enables that with a quick, two-scan process. Simply scanning an employee ID and medicine's NDC prompts Verify ICU to print an immaculate, three-part IV tube label.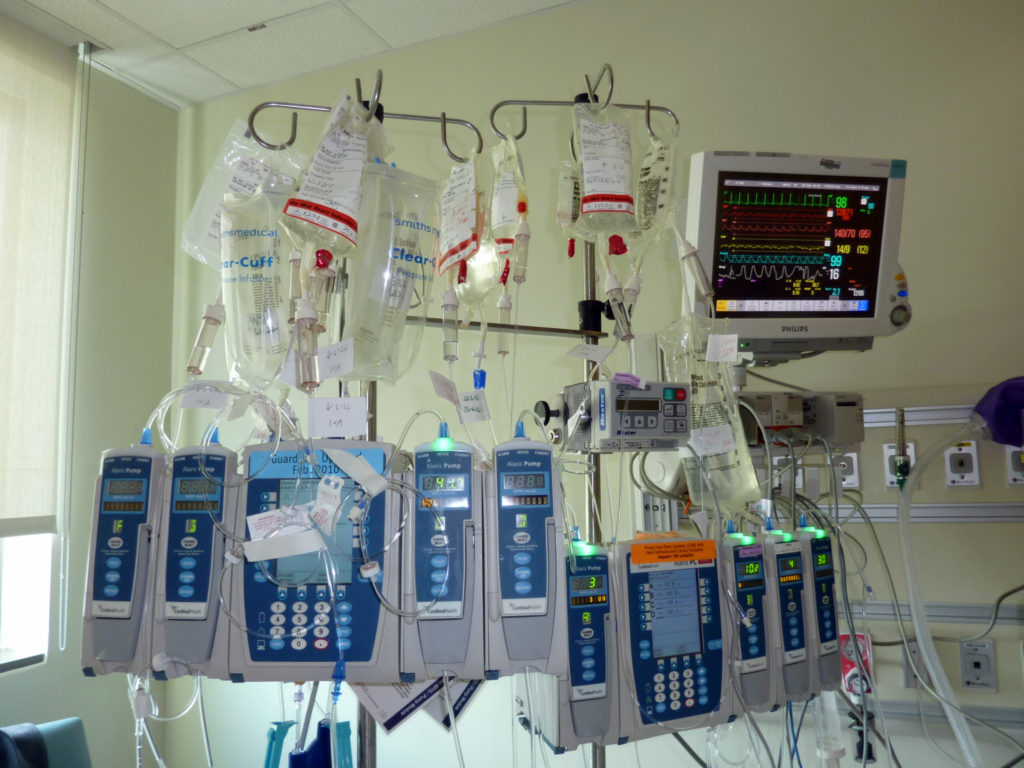 How Vigilant's Verify ICU System Benefits the ICU
Prevent Bloodstream Infections
Verify ICU knows how long each medication can be administered safely via intravenous infusion. Each printed label is color-coded to remind staff when IV tubing needs to be changed. Eliminating the need for mental calculation and standardizing label design, Verify ICU protects patients from bloodstream infections by making it easy for staff to recognize when IV lines need to be changed.
Prevent Infusion Errors
Verify ICU takes less than a second to print three labels for each infusion. Providing ICU staff with labels to tag IV tubing at both the patient- and pump-ends, Verify ICU makes following best practices easy, decreasing risk of IV misidentification and resulting patient complications.
High-Risk Drug Warnings
20 drugs account for around 80% of fatalities from medication error.
60% of life-threatening errors in the hospital involve IV infusions.
85% of IV errors intercepted are caught by nurses.[4]
Verify ICU labels include additional, highly-visible warnings for high-risk drugs. This provides a final check at which staff can identify misordered medications.
Simplified Labeling Process
Verify ICU eliminates the need for pre-printed or hand-written labels in the ICU. Staff simply scan their ID and a drug's NDC barcode; Verify ICU takes care of the rest. Simultaneously printing both IV line-identification and changing-time labels, our solution decreases the time required for staff to correctly label infusions from minutes to seconds.
Fast IV Line Identification
Verify ICU makes it easy for staff to identify IV lines in patients with multiple infusions. Consistent, legible labels aid staff in line-tracing when adjusting infusions and ensure continuity of information between shifts. IV system labeling solutions like Verify IV have been shown to decrease infusion identification time by 62% when used with best practices.[5]
Label Contents
Studies have shown that up to 71% of infusions administered in the ICU are not labeled according to hospital policy.[6] The non-standardized, time-consuming labeling process simply does not encourage compliance. Verify ICU automates and standardizes label creation. Each label set includes drug name, administration time and date, required changing date, administering staff name, and relevant drug alerts, making 100% label content compliance possible in the ICU.
IV Line Tagging
Following insufficient label content, noncompliant IV line tagging is the second most frequent infusion error in the ICU.[6] Verify ICU prints a three-part set of labels at once. Each set includes one large, descriptive label and two smaller labels for tagging the IV tubing, providing staff with everything they need to tag IV lines in compliance with best practices.
Verify ICU is Easy to Integrate
We understand that caring for patients is what matters most to healthcare staff. That's why we make it easy for hospitals to integrate Verify ICU into their intensive care units with as little hassle as possible.
No IT setup necessary. The Verify ICU stand-alone solution comes pre-loaded with an NDC database, plus required IV tube changing times.
No need for capital budget requests. Vigilant understands that getting new solutions approved in hospitals can be a laborious process. Verify ICU is priced below most hospitals' capital budget request thresholds, so that you can get it into the ICU, protecting patients and aiding nurses ASAP.
Easy to set up, easy to use. Verify ICU comes with everything you need to begin, out of the box. It's so easy to use that a single demonstration is usually all that's needed to get ICU staff up to speed.
Unsure what you need?
Call us, we can help.
Purchasing equipment and supplies for healthcare facilities is complicated. Let two industry veterans personally walk you through the process. We'll help you determine which customized solution is most cost-efficient for your facility.
Vigilant Software Verify ICU IV Tube Labeling System 2-Pager Brochure
Developed by clinicians, Vigilant's Verify IV labeling solution
drastically reduces time spent on label creation. It reduces waste in the hospital with clean, easy-to-read labels directing staff for when it is time for a tube change.
ELIMINATE PATIENT SAFETY RISKS
Technology that eliminates the hassle surrounding drug labeling means properly labeled syringes/IV tubes are the norm.
Don't let another Joint Commission survey happen without Vigilant's patented solution. Compliance concern will be a thing of the past.
INCREASE HOSPITAL PROFITS
Do you have lost charges for drugs drawn outside of the pharmacy? Vigilant is proven to solve that challenge.